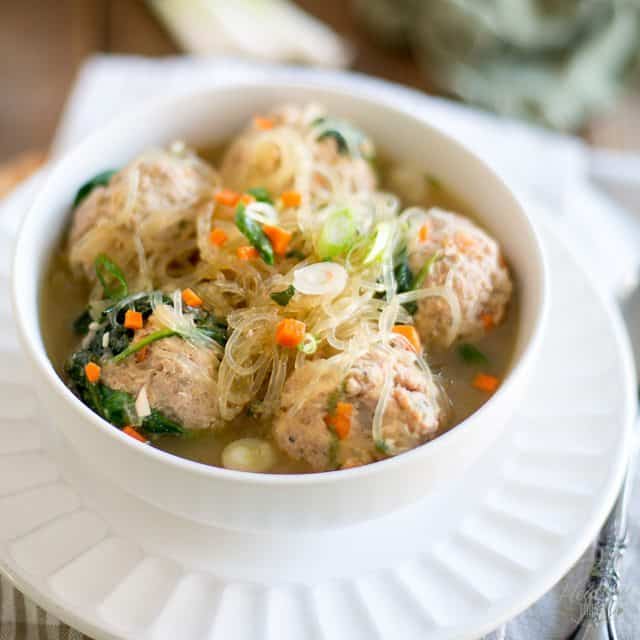 1 lb ground pork
¾ cup raw medium shrimp, peeled and roughly chopped




2 large eggs




¼ cup green onions, chopped




¼ cup carrots, finely diced




¾ tsp

Himalayan salt


¾ tsp black pepper




2 tbsp

coconut flour


1 tbsp

coconut oil


3 cloves garlic, minced




1 cup onion, chopped




2 cups vegetable broth




3 cups water




2 tsp

fish sauce


12 oz

sea kelp noodles


1 bunch spinach
Directions:





Prepare the meatballs by combining the ground pork, shrimp, eggs, green onions, carrots, sea salt, black pepper and coconut flour in a large mixing bowl and mix with your hands until well combined.




Form the pork mixture into twelve 1½" (4cm) meatballs and set aside. A

spring-loaded ice cream scoop

works wonders for this.



Add coconut oil to a

medium saucepan

over medium-high heat. Add the garlic and onion. Sauté until fragrant, about 3 to 4 minutes. Add the broth, water and fish sauce. Cover and bring to a boil. Season with salt and pepper to taste.
Reduce the heat to medium-low until the broth mixture is just simmering. Drop in the meatballs one by one, about 5 seconds apart so that they do not stick to each other. Simmer uncovered for 25 minutes, then gently stir and add the spinach to the soup. Mix for 1 to 2 minutes until it wilts. Add the sea kelp noodles and let them cook for about 1 minute, then turn off the heat and serve hot.
Garnish with chopped carrots and green onions, if desired. Serves 2 generously.