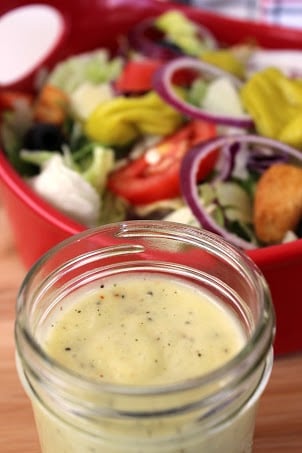 Olive Garden Salad Dressing Recipe
I love copycat recipes, but Olive Garden copycat recipes are my favorite!! This one is definitely at the top of my list!! I looked everywhere for an Olive Garden salad dressing recipe that tasted just like it, and I'm so happy to say I finally found it! I really only go to Olive Garden for three things: Zuppa Toscana soup, their salad, and alfredo. I'm happy to say I've mastered all 3 recipes so now you can save money and make them all at home!!
You will need:
* Parmesan Cheese * Good Seasons Italian Dressing Packets * Italian Seasoning *
Ingredients:
1/3 cup White Vinegar
1/2 cup Vegetable Oil
1/4 cup Olive Oil
1 tsp Mayonnaise
1/2 tsp Garlic Powder
1/2 tsp Sugar
1/4 tsp Pepper
1/2 tsp Salt
1/2 tsp Italian Seasoning
1 packet Good Seasons Italian Salad Dressing
1 tsp grated Parmesan
1/8 tsp Lemon Juice
1/4 tsp Xanthan Gum (optional)
4 tbsp Water
Directions:
Combine ingredients and blend until well mixed.
Chill until ready to serve.