Eggs In Hell - Mexican Style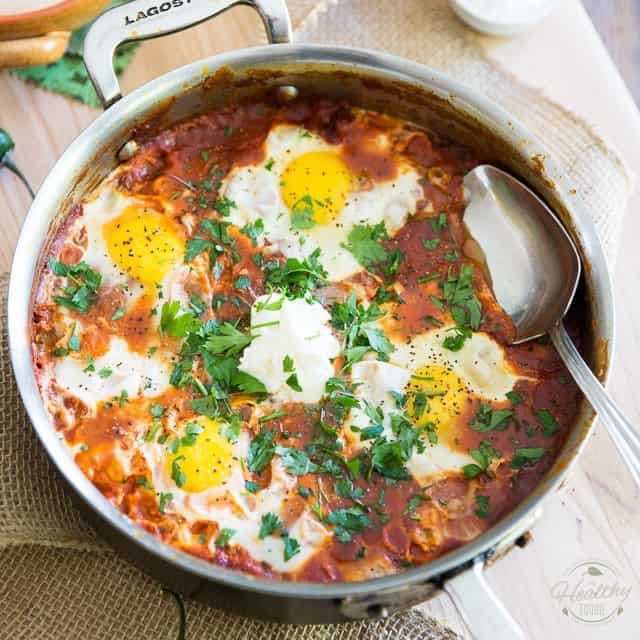 Eggs In Hell - Mexican Style
Ingredients:
2 tbsp extra-virgin olive oil
4 fresh chorizo sausages, casings removed
2 cloves garlic, minced
1 small onion, chopped
1 celery rib, chopped
1 jalapeno pepper, seeded and finely chopped
1/2 red bell pepper, chopped
1 tsp dried oregano
1 tsp ground cumin
1 tsp chili powder
1/4 tsp chipotle powder
1/2 tsp ground coriander
1/2 tsp salt (I use Himalayan salt)
1/2 tsp ground black pepper
1 large (28oz) can crushed tomatoes
1/2 cup water
1/4 cup finely chopped parsley
(plus more to garnish)
4 large eggs
Sour cream to serve
(optional)
Directions:
Heat the olive oil in a

saute pan

set over medium-high heat. Once hot, add the sausage meat in chunks. Cook, stirring delicately with a wooden spoon from time to time, until the chunks of meat become brown and crispy. Try not to break the chunks of meat as you stir.
When the meat is nice and brown all around, lower the heat to medium, add the onion, garlic, celery, jalapeno and bell pepper. Continue cooking until the vegetables are slightly softened, about 3-4 minutes.
Add the spices, mix well and cook for another minute or two.
Add the crushed tomatoes, water and parsley; stir and bring to a simmer, then lower the heat and let the sauce simmer for 20 to 25 minutes, until it has thickened a bit and reduced by about one quarter.
Crack the eggs across the surface of the sauce and continue cooking for 8 to 10 minutes, or until the eggs are cooked to your liking.
Sprinkle with a handful of chopped parsley, a pinch of salt and pepper and serve immediately.
Garnish with sour cream, if desired.